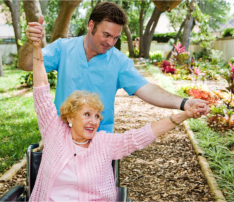 Well Given AFC, Inc. offers short-term or long-term care for seniors and other disabled adults. Our family care homes have a warm and welcoming environment The alternative, yet warm and welcoming environment of our family care homes are sure to delight those who especially prefer to be in a community setting than in an institutional-type of care facility.
We understand and know more than anyone, the power of a gentle touch and a kind smile. Our staff embodies the genuine spirit of compassion as we care for you – body, soul and spirit.
Aside from the AFC program, Well Given AFC, Inc. Can also arrange for the provision of the following services:
Medical supply
Mecications management
Visiting (Skilled) Nursing Services, e.g.Nurses, Physical therapists, Occupational therapists and etc.
Adult Day Health services and much more
If you would like to meet with us for an assessment or consultation, please do not hesitate to Set an Appointment online so we can accommodate you. If you have questions or inquiries, please do not hesitate to give us a call at 781-320-0855.