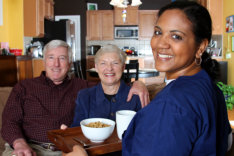 Well Given AFC, Inc. is a privately owned and operated adult family care program provider located in Dedham, Massachusetts.
Our Mission STATEMENT
Our aim is to suitably provide for the individual needs of our clients through responsive coordination and holistic support for the residents in our family care homes.
We are staffed with compassionate and responsive care team who will personally to it that any need, requirement, or condition will be suitably provided for in order to contribute for the client's need for integrity and to prolong their independence as much as possible.
Each AFC caregiver must:
(1) Be a responsible person who is at least 18 years of age, with the ability to make mature and accurate judgments and with no mental, physical, or other impairments that would interfere with the adequate performance of the duties and responsibilities of an AFC caregiver;
(2) Not abuse alcohol or drugs;
(3) Be able to devote appropriate time necessary to provide needed personal care to the member to ensure the member's safety and well-being at all times;
(4) Not be a family member, as defined in 130 CMR 408.402; and
(5) Meet all other requirements established by the AFC provider for an AFC caregiver.
To know if you are eligible to for the AFC program, please go to our Program page for more information. To know more of the services we provide, please proceed to our Services page to view what we offer.
Other facts about Well Given AFC's Program:
Program is operated and managed by Licensed Health Care Professional and Experienced Manager.
Our staff, including Management has 20 plus years of experience in Health Care industry and more than 10 years of Home Care experience.
Our Staff speaks more than 8 different languages.
If you would like to meet with us for an assessment or consultation, please do not hesitate to Set an Appointment online so we can accommodate you. If you have questions or inquiries, please do not hesitate to give us a call at 781-320-0855.